Star Wars: Outer Rim – $99 Taxes incluses
---
1-4 players:
Take to the stars and become a living legend in Star Wars: Outer Rim, a game of bounty hunters, mercenaries, and smugglers for 1-4 players!
In Outer Rim, you take on the role of an underworld denizen, setting out to make your mark on the galaxy. You'll travel the outer rim in your personal ship, hire legendary Star Wars characters to join your crew, and try to become the most famous (or infamous) outlaw in the galaxy!
But it won't be easy since the warring factions of the galaxy roam the outer rim, hunting down the scum that have proven to be a thorn in their side, and other scoundrels looking to make their mark see you as the perfect target to bring down to bolster their own reputation. Do you have what it takes to survive in the outer rim and become a living legend?
In more detail, a game of Outer Rim takes place over a series of turns that sees players taking dangerous jobs, tracking down bounties, upgrading their ship, and more, all in service of gaining more and more fame. Regardless of the path you take to get there, your goal is to gain ten fame, which can come from a variety of sources, such as completing your character's personal goal, collecting on bounties and jobs, delivering illegal cargo, taking down patrols from the various factions struggling over the galaxy, and enjoying the finer things in life by purchasing luxury items with your hard-earned credits.
While the path to victory may be different for scoundrels finding their way in the Outer Rim, everyone starts from the bottom with a simple starship. Your player board not only tracks your fame progress, but also contains slots for your ship, your character card, gear, reputation, modifications, jobs, and bounties.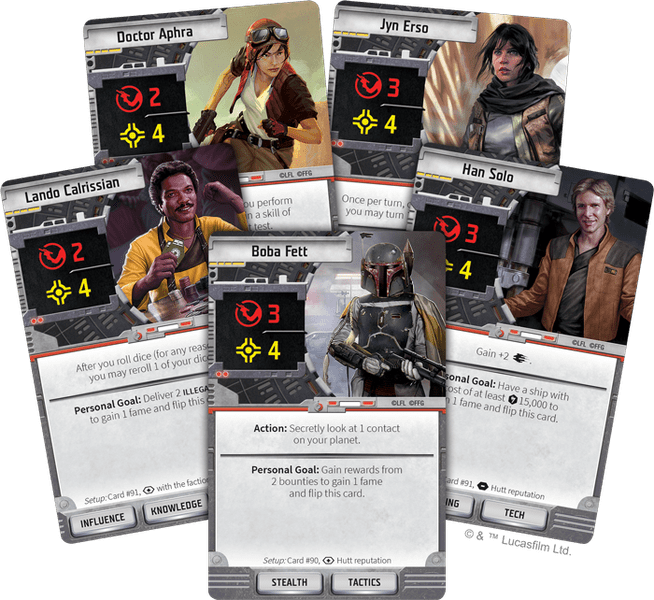 Détails supplémentaires: version anglaise - FFG - disponible
*Veuillez noter que la disponibilité sur les items très populaires ou moins récents peut changer à tout moment, ils nous faut vérifier les stocks chez nos distributeurs. Il est donc préférable pour ces jeux de nous écrire avant de payer pour être sure de leurs disponibilités.