Groves – $45 taxes incluses.
---
1-4 players:
Idyllon was the crown jewel of Faerie Queen Nivarra's kingdom… once upon a time. But after a great betrayal at the hands of Ancient Therha, this once great land has dissolved into formless void. While all of those who remember its beauty mourn this tremendous loss, you – the Guardians of the Four Winds – have vowed to restore Idyllon to its former glory.
Groves is a strategy game that combines worker placement with bag building. There are multiple worker types that a guardian can summon to reap the benefits of the land. Using any worker-type will gain you a land's ability but using a worker that is elementally linked to that land type will also earn you an additional ability to edge you closer to gaining the crown.
Playing in other players' groves may also work to your advantage; however, although you will be able to gain the ability of the land, your sprits will end up in your opponents' summoning bag. Can you build your grove and manage your pool of spirits to become the new Ruler of Idyllon?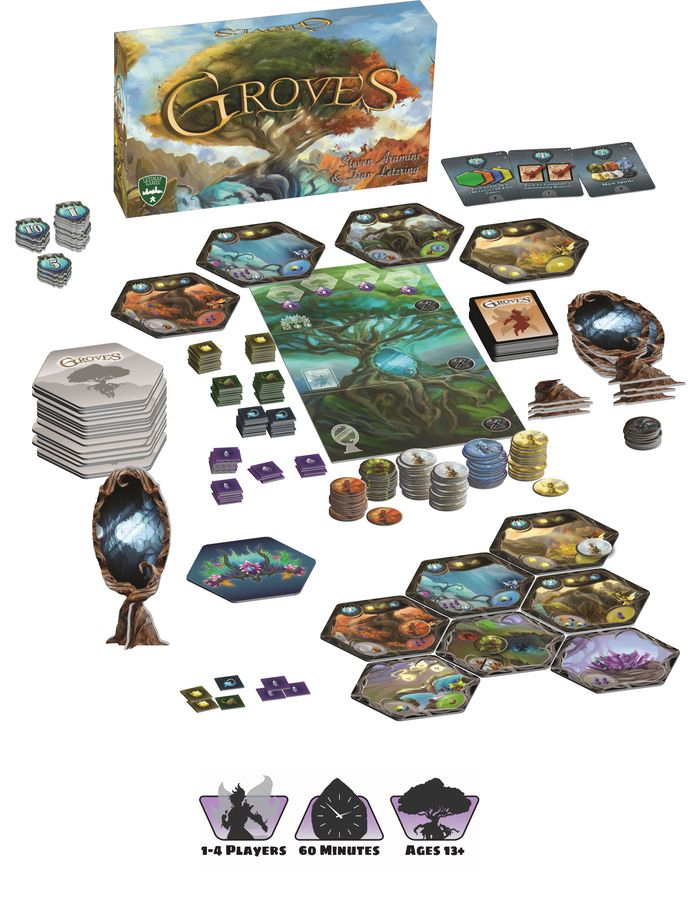 Détails supplémentaires: version anglaise - Letiman Games - disponible
*Veuillez noter que la disponibilité sur les items très populaires ou moins récents peut changer à tout moment, ils nous faut vérifier les stocks chez nos distributeurs. Il est donc préférable pour ces jeux de nous écrire avant de payer pour être sure de leurs disponibilités.