Memoarrr! – $17 taxes incluses
---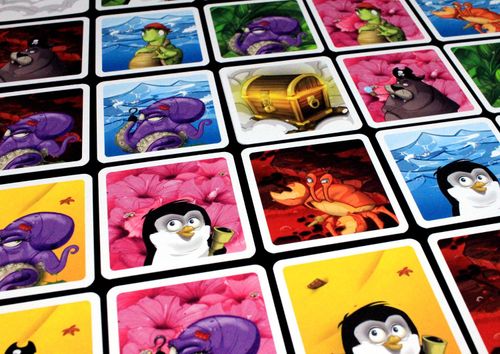 Memo…ARRR! You flipped over the wrong card again!
To play the match-and-memory game Memoarrr!, 2 to 4 players need the power of recollection and the luck of pirates. Only then can they make their escape from the island of Captain Goldfish, their pockets lined with rubies, before the lava swallows them up.
In turn order, players reveal locations that are connected via the animal or the landscape to the most recently revealed location. If someone reveals a location without any connection, that player is out of the round. The last remaining pirate grabs one of the valuable treasures. Then, all revealed locations are turned face down before the search can start afresh.
As the cards do not change position during a game, players collect more and more information each round, enabling them to reveal new connections — but sometimes a little bit of luck is all it takes to get that treasure.
For advanced players, each animal comes with an additional special action that is triggered when a connected location is revealed — and they make Memoarrr! even more exciting and fun to play.
Détails supplémentaires: Version anglaise - Stronghold Games - Disponible
*Veuillez noter que la disponibilité sur les items très populaires ou moins récents peut changer à tout moment, ils nous faut vérifier les stocks chez nos distributeurs. Il est donc préférable pour ces jeux de nous écrire avant de payer pour être sure de leurs disponibilités.